Recommended Global Dentistry Conferences
Dentistry 2019
Welcome Message
Dear Patrons,
It is a great pleasure and an honor to extend to you a warm invitation to attend the 37th International Conference on Dentistry and Oral Care, to be held during March 27–March 28, 2019 at the Sydney, Australia
We cordially welcome you to join us and share your research knowledge and views in respective to the theme "New frontiers in Dentistry to strive for Excellence in Oral Care". This year theme will underpin the need for collaboration and cooperation of individuals from a wide range of professional dental backgrounds.
Sydney is an exciting & exceptional location for Dentistry 2019 Congress. Sydney, the capital state of New South Wales and the most populous city in Australia and Oceania. In addition to hosting events such as the 2000 Olympics, Sydney is amongst the top fifteen most-visited cities in the world, with millions of tourists coming each year to see the city's landmarks. Its natural features include Sydney Harbour, the Royal National Park, and the Royal Botanic Garden. Man-made attractions such as Sydney Tower, the Sydney Harbour Bridge, and the Sydney Opera House, are also well known to international visitors. Kingsford-Smith Airport is the main airport serving the metropolitan area, one of the world's oldest continually operating airports. The Central station is the main hub of the city's rail network.
Participants to Dentistry 2019, besides updating and discuss new trends in "Dentistry and Oral Care", have a unique opportunity to generate international research networks.
The Dentistry 2019 Conference will provide a wonderful forum for you to refresh your knowledge base and explore the innovations in Dentistry and Oral Care. The Conference will strive to offer plenty of networking opportunities, providing you with the opportunity to meet and interact with the leading scientists and researchers, friends and colleagues as well as sponsors and exhibitors.
About Conference
The field of Dentistry is growing rapidly and its development is making tremendous impacts in Dental Care. The importance and significance can be gauged by the fact that it has made huge advancements over the course of time and is continuing to influence various Interdisciplinary sectors
Conference Series llc LTD welcomes you to attend the 37th International Conference on Dentistry and Oral Care during March 27-28, 2019 in Sydney, Australia. This is an excellent opportunity for the delegates from Universities and Institutes to interact with the world class Scientists. The main theme of the conference is "New Frontiers in Dentistry to strive for Excellence in Oral Care"
Dentistry 2019 will be a global platform for sharing information and ability from both scientific and industrial group. The meeting goes for uniting the dental academicians, scientists, instructors, dental practitioners, business pioneers, investors and young researchers to a global stage where they can showcase their novel research and contributions in the field of dentistry.
We are sure Dentistry 2019 will be an incredible open door for the global group to trade thoughts and add to a typical vision for future research and prompts collaboration among researchers taking an interest.
Scientific Sessions
Dentistry 2019 will cover the fields of Advanced Tools and Treatment Techniques in Dentistry, Cosmetic Dentistry, Current concepts in Dental and Oral Care, Dental Anaesthesia and Sleep Medicine, Dental Laboratory Materials and Processes, Dental Marketing, Dental Nursing, Dental Surgery, Dentistry and Interdisciplinary Medicine, Dentistry in Stem Cell Regeneration and Repair, Digital Dentistry and 3D Imaging (CAD/CAM), Endodontics, Forensic Odontology and Dental Anthropology, Geriatric Dentistry, Green Dentistry, Nanotechnology application in Dentistry, Nutrition and Oral health, Oral and Maxillofacial Surgery, Oral Carcinoma, Oral Microbiology and Pathology, Orthodontics, Paediatric Dentistry, Prosthodontics and Oral Implantology, Restorative Dentistry, Sports Dentistry
This 37th International Conference on Dentistry and Oral Care includes International attendees, Workshops, Lectures and Symposiums, refreshment break and Grand Luncheon. Persons associated with dentistry in any way can be a part of this conference as an international member to receive early bird discounts on Registration. So come and be a part of this leading experts and allied professionals meeting from March 27-28, 2019 in Sydney, Australia to get an insight into the rapidly accelerating pace of changes in dentistry that is already having a profound impact on the society and human lives, and will continue to in the near future also.
Why should I attend it?
With members from around the world focused on learning about Dentistry and its advances, this is your best opportunity to reach the largest gathering of participants from the Dental and Oral Care community. Conduct presentations, distribute information, meet with current and Potential Scientists, make a splash with new developments, and receive name recognition at this 2-day event.
The 37th International Conference on Dentistry & Oral Care is designed to address new horizons in Dentistry and Oral Care. The attendees can find:
Exclusive Sessions and Panel discussions on latest innovations in Dental and Oral Health
Keynote forums by Renowned Dentists
Speaker Forum
Poster Sessions on latest Innovation in all the relevant Areas
Poster Sessions on every Career Stage
Young Research Forum
Post-Doctoral Career Development Session
B2B Meetings
Global Networking with 50+ Countries
Novel Techniques to benefit your Research
Best platform for Global Business and Networking Opportunities
Meet the Editors of refereed Journals, Society and Association members across the Globe
Which audiences are being targeted?
So don't miss this golden opportunity to hear the latest trends & form a network with global experts.
Market Analysis Report
Dentistry 2019:
Australia's dental device market is presently assessed to be worth USD 5.6 billion for the year 2014 and is relied upon to develop at a Compound Annual Growth Rate(CAGR) of 6.5% for the term 2016-2021.
The studies conducted by the Australian Dental Association point to a yearly development rate in the Australian dental workforce to supply dental services of between 3.75 to 4.25 for each per cent per annum. This is adequate to meet the anticipated development sought after for dental services of around 2.5 per cent per annum. The study estimates a surplus of dentists by 2020.
Importance and Scope:
Dental health is imperative in light of the fact that it not only gives a healthy smile which increase your self-confidence, but also lessens facial or oral pain, and reduces the risk of gum disease. As per the Academy of General Dentistry, there is a relation between gum (periodontal) disease and health problems, for example, stroke and heart disease. Women with gum disease may show higher frequencies of pre-term, low birth-weight babies. Absence of dental hygiene can cause digestion problems. The breakdown of food physically and chemically starts in your mouth. So if there is a problem in your mouth it can lead to digestive problems. Dental wellbeing starts soon after birth and proceeds with the rest of your life. Great oral wellbeing practices and regular visits to dental experts will enable you to enjoy the advantages of a brilliant smile and a pain free mouth.
Dentistry 2019 is an international platform for research about Dentistry, trading thoughts regarding it and in this manner, helps in the dissemination of information in marketing for the advantage of both the scholarly community and business. This conference will unite business, innovative, pioneers, Academics of both Dental, Oral Health from different parts of the world.
Dentistry is a rewarding profession to pursue. Through training, diagnosis and treatment, dental practitioners give the general population a fundamental wellbeing. Research is proceeding to demonstrate that the connection between oral wellbeing and general wellbeing is strong.
Why Australia?
Dental problems are Australia's most common medical issue, edentulous(lacking teeth) the third most pervasive, and periodontal illness the fifth most predominant. Caries and periodontal sickness represent 90 percent of all tooth misfortune. At the last national study of oral wellbeing, more than 38% of Australians had untreated dental rot. Recent studies propose that 11 million individuals are enduring new rot every year.
The quantity of dental specialists enrolled in Australia in 2012 was 19,462, of whom 14,687 (75.5%) were dental practitioners. The supply of utilized dental practitioners expanded somewhat from 55.4 to 56.9 full-time comparable professionals per 100,000 population in the vicinity of 2011 and 2012, which reflects 5.3% expansion in dental specialists. In 2010, 55% of 6-year-olds had encountered rot in their baby teeth and 48% of 12-year-olds had encountered rot in their permanent teeth. In 2013, 16% of grown-ups with natural teeth had encountered toothache in the past one year and 27% announced feeling awkward about their dental appearance. Grown-ups who were uninsured (20%), and the individuals who were qualified for open dental care (20%), will probably have encountered toothache than different grown-ups. In 2013, about 19% of adults aged 65 and above had no natural teeth.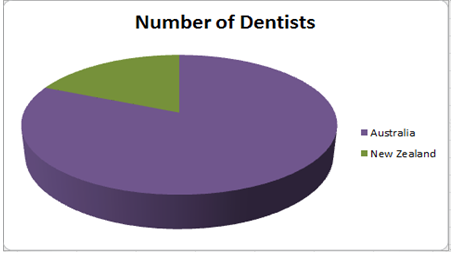 Top Dental Universities in Australia
James Cook University
University of Adelaide
University of Queensland
University of Sydney
Charles Sturt Univeristy
La Trobe University
University of Melbourne
University of Western Australia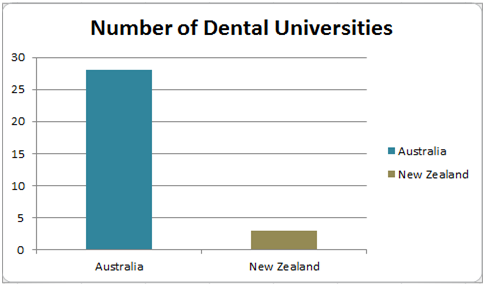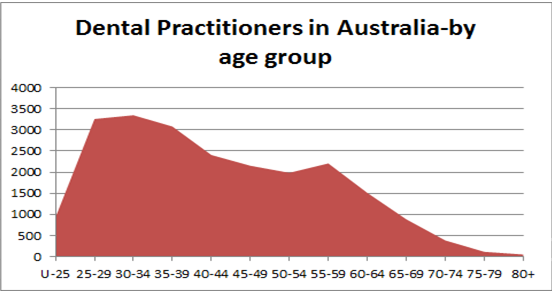 Major Dental Associations around the Globe
Australian Dental Association
Australian Dental Industry Association
National Dental Association
The Australian Dental Association's Foundation
Dental hygienists Association of Australia
Australian Dental and Oral Health Therapists' Association
Australian Dental Prosthetists Association (ADPA)
Dental Assistants Professional Association (DAPA)
Dental Hygienists Association of Australia (DHAA)
Oral Health Professionals Association (OHPA)
Australian Society for Special Care In Dentistry (ASSCID)
Australian Society for Implant Dentistry (ASID)
Australian Society for the Advancement of Anaesthesia and Sedation in Dentistry (ASAASD)
Australasian Osseointegration Society (AOS)
Dental Clinics
Australia Fair Dental Care
Mobile Dental Clinics Australia
Australia Dental
Australian Dental Care Centre
Oral Health Centre
Dental Clinics of Australia
The Australian Unity Dental Centre
Australia Dental Burpengary
Melbourne Dental Clinic
Mount Henry Dental Clinic
Westmead Centre for Oral Health
Dental Research Centers
The Australian Institute of Dental Education and Research
South Australian Research and Development Institute
Colgate Australian Clinical Dental Research Centre
The Australian Institute of Health and Welfare's Dental Statistics and Research Unit
Australian Research Centre for Population Oral Health
Australian Dental Research Foundation (ADRF)
Companies Associated with Dental and Oral Health
AcceleDent Australia
Alldent Pty Ltd
TrollDental
Betta Dental Products Pty Ltd
Dental Wear Pty Ltd
GAC Australia Pty Ltd
Pearly Whites Australia
Orien Dental Supplies
Zwisse International Dental & Medical Supplies
White Research & Development Pty Ltd
Ultimate Dental Supplies
Glance at Dental and Oral market
Intermittent use of dental services in Australia was $8,706 million of every 2012–13, up from $5,945 million, balanced for inflation, in 2002–03. Dental services, in this unique situation, cover a scope of services given by enlisted dental experts, including oral maxillofacial surgery, orthodontic, pedodontic and periodontic administrations; cleft lip and palate services; dental evaluation and treatment; and other dental procedures recorded in the Medicare Benefits Schedule.
Spending on dental services (aside from those in healing centers) in Australia has expanded by 46% in the course of the most recent decade, from $5.9 billion of every 2002–03 to $8.7 billion of every 2012–13, balanced for expansion. In the vicinity of 2011–12 and 2012–13, consumption by the Australian and state and region governments diminished while use by the non-government area, including people and medical coverage stores, expanded. Australian Government per capita use likewise expanded (from $25 to $68), while state and region per capita consumption remained moderately stable at around $29.The 2016 Australian Government Budget report states that the government will invest $1.7 billion more than four years, to target dental projects, by presenting another Child and Adult Public Dental Scheme. It will give more noteworthy long term funding assurance for States and Territories, and additionally an expansion from an expected $200 million in 2015-16 to $416 million in 2016-17 in Commonwealth funding for all focused open dental projects run by the States and Territories.
Statistics & Market Size of Dentistry in Australia

Past Conference Report
Dentistry 2018
Dentistry 2018 Report
Conference series llc LTD organized the 31st International Conference on Dentistry and Oral Care at Osaka, Japan during May 18-19, 2018. Dentistry 2018 was organized with a focus on "Bridging Excellence in Dentistry and Oral Care: A vision for Excellence". It was a great success where eminent keynote speakers from various reputed universities and organizations made their resplendent presence and addressed the gathering.
The conference marked its start by an opening ceremony which included introduction by the Honourable Guests and the Members of Keynote Forum. All the speakers have extended their contribution in the form of highly informative presentations to lead the conference to the ladder of success.
Conference Series extends its warm gratitude towards all the Participants, the coordinators, Honorable guests, Keynote Speakers, Eminent Speakers, Young Researchers, Delegates, Students, Media Partners and Exhibitors of the event for making this programme a great success
We would like to specially thank the following people who laid the foundation for the event's success.
Keynote Speakers:
• Mostaque H Sattar, University of Dhaka, Bangladesh
· Suk-Ja Yoon, Chonnam National University, Republic of Korea
• Abhijeet Bhasin, World Academy of Ultrasonic Piezoelectric Surgery, India
Moderator:
• Mostaque H Sattar, University of Dhaka, Bangladesh
After the huge optimistic response from dental scientific fraternity, renowned personalities and the Editorial Board Members of Conference Series from across the world. We are pleased to announce the 37th International Conference on Dentistry and Oral Care to be held during March 25-March 26, 2019 at Sydney, Australia
All the papers presented on Dental and Oral Health conference have been published in the proceedings of the "Journal of Oral Health and Dental Management"
Past Reports
Gallery
To Collaborate Scientific Professionals around the World
Conference Date March 27-28, 2019
For Sponsors & Exhibitors
Useful Links
Past Conference Report